As I'm looking up ideas for how I'm going to package my aluminum arc discs that should be here by MONDAY…I decided of course to search online. During my search I found these cleaver and cute ways to make up your very own washi storage. Because if you're anything like me…it would be impossible to only own a handful of rolls…you've got to own them by the dozens. I will section this out to DIY of making your own, To creative alternatives and then ones that you can purchase.
---
DIY WAYS TO STORE WASHI
---
This first one I looked at specifically because it's very close to what I will be wanting for my discs I believe. You can find out how to create this very cute washi box that includes a reused cutting edge from an old foil or cling wrap box. Link Below Image.

http://www.trimcraft.co.uk/articles/diy-washi-tape-storage-tutorial-printable-template
---
Two Words all…CEREAL BOXES. Start keeping them from now on. Because they tend to be the perfect size for washi. From iheartorganizing.com
---
Keep your Toilet Paper Rolls!
---
Here's one recycling your old foil or wax paper boxes. Best part is that it is set up already with a cutting edge. Another one by Hometalk.com
---
Here's a similar style box but as a slide out. I'm thinking this could be a good possibility for my a set of my arc discs. I'll have to test some of these out once I receive them and find out. Click on the image for the direct link tutorial.

Designoform.com
---
This one look easy enough with materials you may possibly have on hand. If not looks like these could be found at the closest dollar store. Found here at ThisGirlsLifeBlog.com
---
This one seems to be a bit more elaborate and shown here not made for washi but I could see easily could be set up to do so. I like ones with the removeable rods such as these for easier access to the rolls that you want.
---
Here is one that looks fairly simple using an ordinary box….who doesn't have at least one Amazon box to repurpose? You can find more on this idea at HomeTalk.com.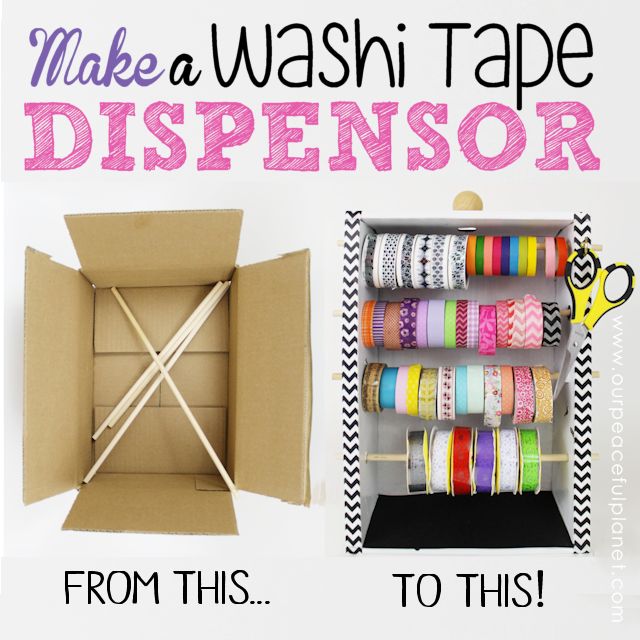 ---
This I love the look of for a desk area. Also doesn't look too complicated to make and also looks to be fairly cheap. This idea is found at scraptasticclub.com
---
This one is super cute but beyond my wood skill abilities. But for those that wouldn't feel intimidated by a jigsaw…have at it would seem simple enough beyond cutting the pieces out. This tutorial can be found of SparklesofSunshine.com
---
This one is adorable! Found at Shopcraftwarehouse.blogspot.com
---
CREATIVE WAYS TO STORE WASHI TAPE
---
This is a fun one. I simply love the look of by Triple The Scraps. Click on their image to find out how they made this washi holder.
---
The idea above came from a post I found that has 27 FuWays to Store Washi by craftaholicsanonymous.net. I feel like the rule in thumb for washi follows the amount of ways you can store it…which is that you can never have enough.
---
These style hangers I've seen used for a multitude of storage ideas from scarves to fabric to vinyl rolls so it makes sense they are perfect for washi too! This one can be found at playpartyplan.com
---
Yes! So simple! Idea found at zakkalife.com.
---
STORAGE YOU CAN BUY FOR WASHI
---
Here's a washi wheel by www.allreadymemories.bigcartel.com. As cute as it is…I'm thinking this could get expensive. However, it might be a cute way to highlight you top favorite ones you use often.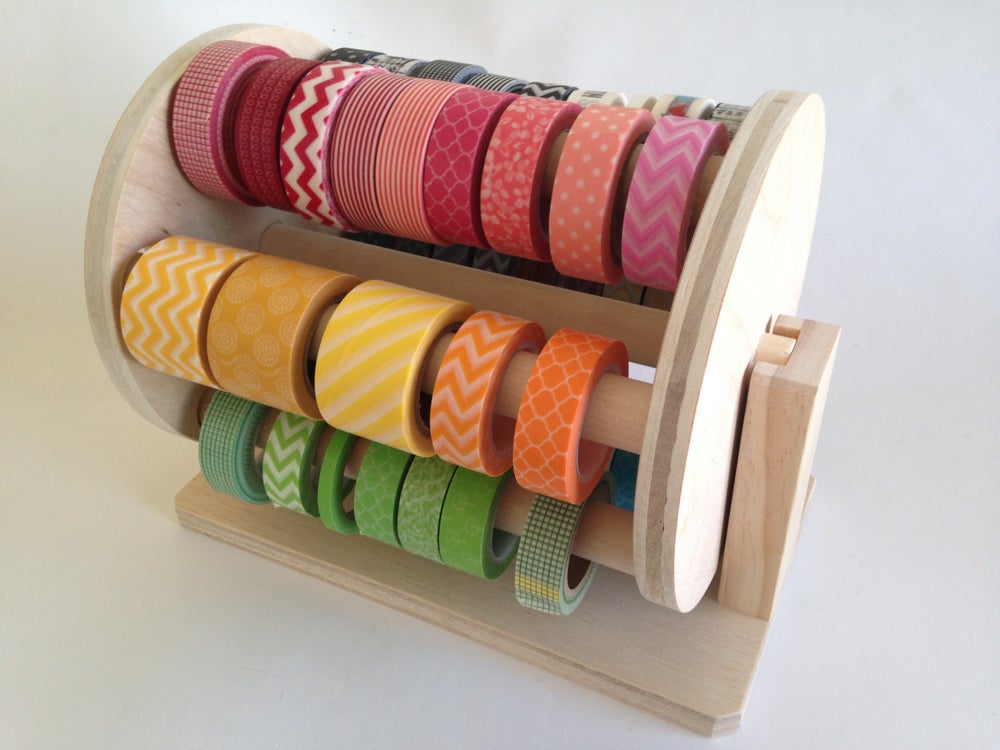 ---
Organize More has this wall unit. I find it to be a bit pricey but only because I look at this thinking it's another thing my hubby can make. 😉
---
Here's one that is made to be able to pull out easily to view the entire tray. As much as I like this idea…I'm not a huge fan of the plastic look of this. This particular one is found on Ebay.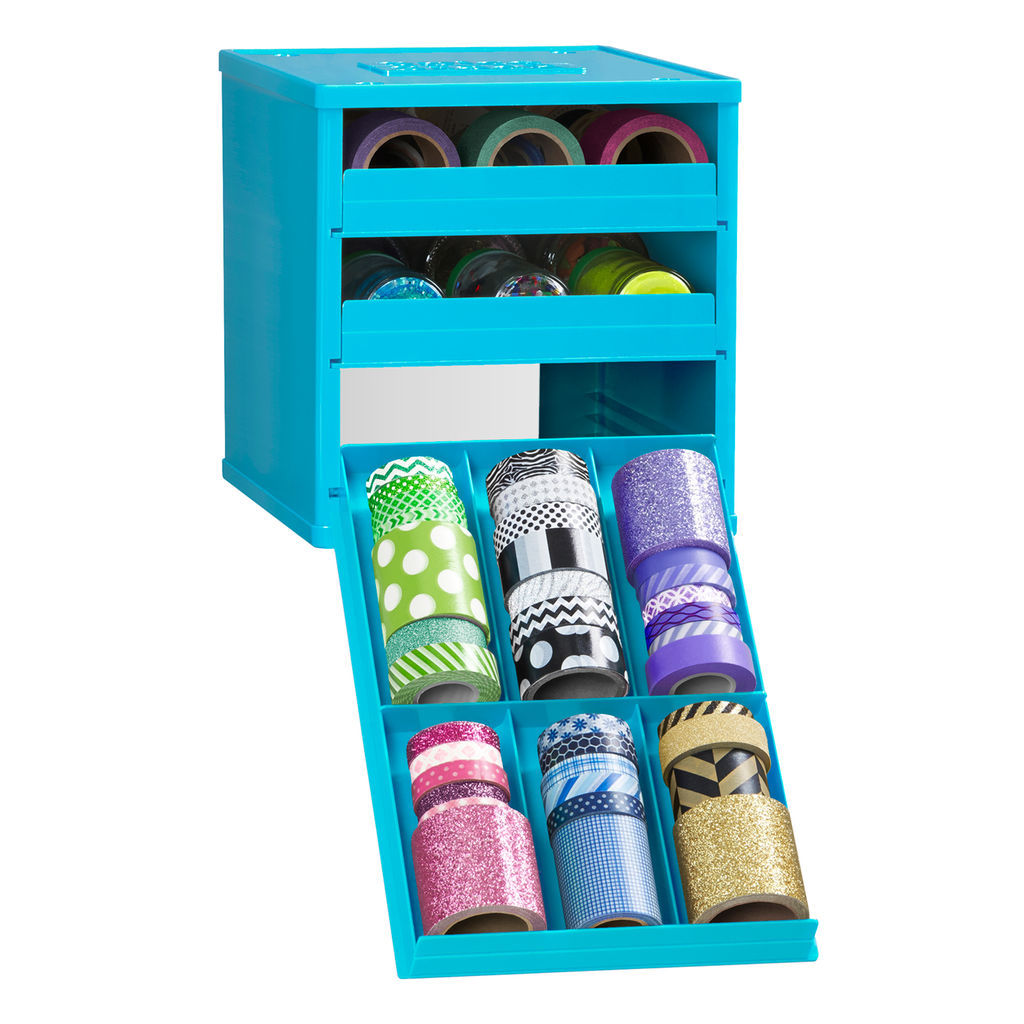 ---
Now that you have all that storage here is a list that of AWESOME things you can do with WASHI!
---
Starting here on this link of 78 of them go here…seriously you'll want to check this one out. Found at DIYprojectsforteens.com
78 Best Washi Tape Ideas Ever
---
This is actually a coffee caddy…but looks like so much fun! This idea comes from thescrapfarm.blogspot.com.

---